This week we have a guest post from one of our clients, Andy Clark. Andy runs a popular blog called "WorkshopShed.com", which is all about making things in the shed at the bottom of his garden.
Andy writes:
I've been running a blog on Blogger since 2008 with a custom domain sourced by 2020Media. I had been using a simple template with a few custom widgets.
The site was due a refresh but I also wanted to get more flexibility and control over the layout and content. There is a lot of power in the blogger templates but I specifically wanted to have different adverts and affiliate links displayed depending on country of visit. Blogger could not easily support that so I decided to swap to a self hosted WordPress.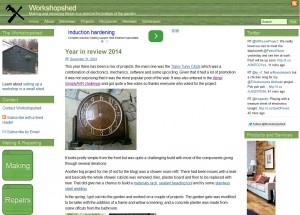 I started my migration by learning about WordPress using a locally hosted virtual machine, it had been a few years since I'd looked at this particular CMS.
Next I put together a list of all the things I wanted to move across, posts, pages, comments, images, links and all of the functionality I wanted in the new site.
I checked that the latest WordPress platform was capable and looked at the tools needed for blog migration. Some of the things did not work well on my local VM so 2020 provided me a free hosted site for ease of testing. A simple theme was selected and customised to meet my requirements.
At this point I asked a professional WordPress expert to review the site and we came up with a long list of issues. Some of the issues were technical and some regarding the content and structure of the site.
The issues were fixed and the site were gradually improved. A plan was drawn up for what needed to happen during the switchover. To ensure success, several practice runs were made to ensure the process would work and the posts displayed correctly.
I let 2020 know a week in advance of the migration and cleaned down the test site in preparation for the migration. The transfer of data did not take long and the rollout was finished ahead of plan. The last step was to get the team at 2020 to switch over the DNS and wait for the changes to ripple around the world.
Many thanks Andy.
Andy's shed is a previous finalist of the "Shed of the year" awards, so we're honoured to be hosting such a prestigous site.
If you'd like to know more about 2020Media's WordPress hosting services, you can read about our UK WordPress services here.
We aim to make website migrations as pain-free as possible. To enable a seamless transition we provide free temporary domain names so the site can be fully tested before switching the actual website domain name. In addition, we are keen to help with migration, as we know this can be daunting for the non-technical. So we provide a free migration service – provide us with the login to your existing site and we'll move it to our hosting, completely free of charge.