Neustar, Inc. have released a report using New gTLD data to give a breakdown by industry category: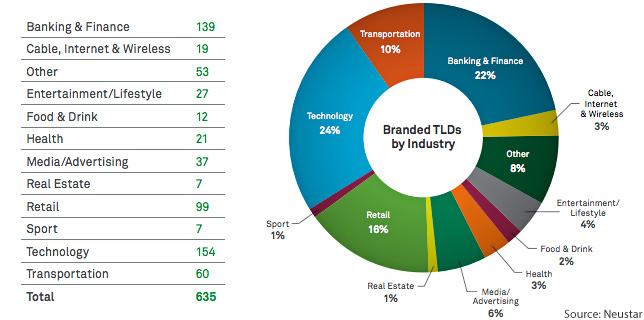 Industry landscape overview
There are a total of 1751 new TLD applications, comprised of brands (635), generics (1060), and geographies (56). More than half of all brand TLDs fall into financial and technology verticals. Furthermore, 41% of brand TLDs were applied for by Fortune 500 companies, mostly in financial services, retail, technology and transportation.
You can download the full report here new-tld-faqs
Will Switching Confuse My Customers?
Website owners concerned that switching to an untried domain will lose their search engine ranking need not be concerned.
Popular start-up tech publication Tech Cocktail recently switched from using its keyword inclusive URL techcocktail.com to a shorter name: tech.co. As shown below, it sustained all of its original search rankings
with the new .co extension, and it continues to rank #1 for "Tech Cocktail" in search
According to Jeff Neuman, Vice President, Registry Services at Neustar, a .brand TLD may in fact decrease customer confusion across the globe:
"Today, brands are securing a large portfolio of domain name extensions depending on where in the world their website is accessed. While .com is prominent in the U.S., brands also use a number of country-specific
extensions like .ca in the Canada and .cn in China. Combined names like .com.au and .co.uk make an even more complicated experience for global customers and brands".
Contact Domain Name Experts
2020Media is an experienced domain name registrar – we can help you make the right choice in the new domain name space.  Review our registrar services and contact us with your questions.