The CiviCRM July Newsletter is hot off the press.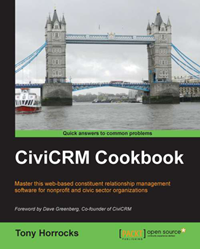 View online at CiviCRM.org
There's a new CiviCRM book out! The CiviCRM Cookbook covers a wide range of CiviCRM core and component topics with practical in depth recipes with accompanying screenshots.
The CiviCRM Starter Kit is a Drupal-and-CiviCRM-in-one bundle which makes downloading and installing a fairly standard instance of Drupal and Civi straightforward. It includes a sensible selection of modules and extensions to get you going.
2020Media will install this for you free of charge.
You've decided to use CiviCRM. Now what? This 45 minute episode will cover what you should (and should not) do before starting to use CiviCRM. First hangout – Tuesday, July 16th at 9am Pacific
Introduction to CiviCRM Mini-series: Before You Login Google Hangout link
Security News
Announcing the 6th stable release of CiviCRM 4.3, containing small bug fixes and two minor security updates to make your CRM more stable and secure.
This is a security release. You should upgrade your site immediately. If you are unable to do so and host with 2020Media, we're happy to help.