Content Management Systems Market Share
We last looked at market share of web content management systems in 2011 so we thought it was time for an update.
Last time we looked, WordPress had a 14% market share of the entire web. Now its higher. WordPress is used by 17.7% of all the websites, that is a content management system market share of 54.9% (as many websites don't use a recognisable content management system at all).
WordPress now claim to serve 65 million websites, up from 50 million 22 months ago. This includes hosted blogs.
Best of the Rest
Joomla has maintained it's position as No.2 CMS with a 2.7% market share. Drupal is in 3rd place with 2.3%. Blogger (Google Blogs) has overtaken vBulletin with 1.3% of the web.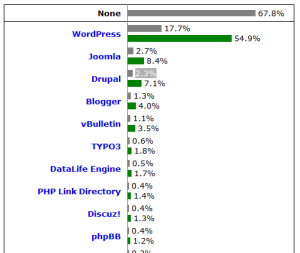 How to read the diagram from Web Technology Surveys:
67.8% of the websites use none of the content management systems that are monitored.
WordPress is used by 17.7% of all the websites, that is a content management system market share of 54.9%.
Trends
The trends look good for WordPress. It's growth continues, and it is actively maintained and updated. New releases are generally welcomed by the community.

And not so good for Joomla. However Joomla has been much more active recently, so it will be worth watching to see if it can recover. Drupal appears to be in the midst of an internal restructuring so we will see how things change in the next 12 months. However it's a firm favourite with a loyal band of developers so it's not likely to disappear any time soon.
CMS Everywhere?
This graph shows the decline in websites that don't use a content management system at all (that we could detect).
It's goes from over 80% in 2010 to under 70% today. That's a drop of 15% in 3 years.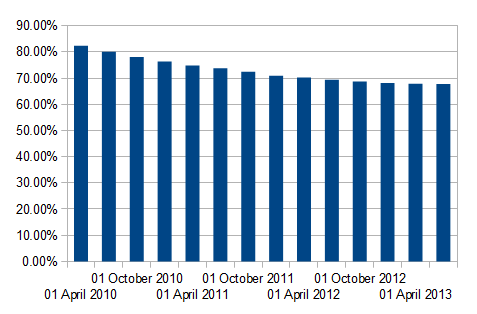 The trend does seem to be flattening out, but here at 2020Media, we would say most – say 70% of new websites we host use a content management system.
Why use a CMS?
Content Management Systems (CMS) give non technical people the tools to add/edit web pages. Using a CMS running a website becomes all about the content and not the ins and outs of how it works. With a CMS a user doesn't need to understand html or any other type of coding, a CMS allows a website owner to concentrate on the important stuff, the content.
Benefits:
Lower setup and operating costs
Website Owners keep control over site content
Page styles can be changes from a single source file
Multiple users can update a site at once
Why NOT use a CMS
Lack of personality – many CMS based sites use off the shelf templates and don't look distintive or truly reflect the company or person they are about.
Lack of quality – A CMS can allow anyone to edit the site – and as it's now so easy, this job is sometimes delegated to someone inadequately trained to do justice to the job. A website is your company or your personality on the web. Should it really be controlled by someone you barely trust to make the tea?
Poor design – When designing a site from scratch, a good designer will seek to find the right calls to action. Some CMS based sites are a morass of irrelevant information with no clear priority given to the most important content. But good design work can overcome this and succeed with a CMS.
Security – security is the bugbear of all CMS systems – they are victims of their own success and a target for hackers. Bad actors can target thousands of sites with the same attack script and will get some success. A hand coded site rarely gets attacked in the first place – even though it may still contain vulnerabilities. If someone is going after you in particular neither option is a guarantee of safety.
2020Media is a UK host specialising in hosting popular content mangement systems like WordPress, Joomla and Drupal. We also provide standard PHP, ASP, Java and ColdFusion hosting platforms for any website.