The governing body for international domain names, ICANN, has produced a report outlining two options for releasing brand new extensions.
The last "round" had been completed way back in 2012, leading among other things to the creation of community-based extensions like ".london", ".scot", ".store" or ".sport". There are approximate 30 million of this type of domain now registered, which is still a relatively small number compared to the over 150 million .com domains and 130 million country code domains in use today.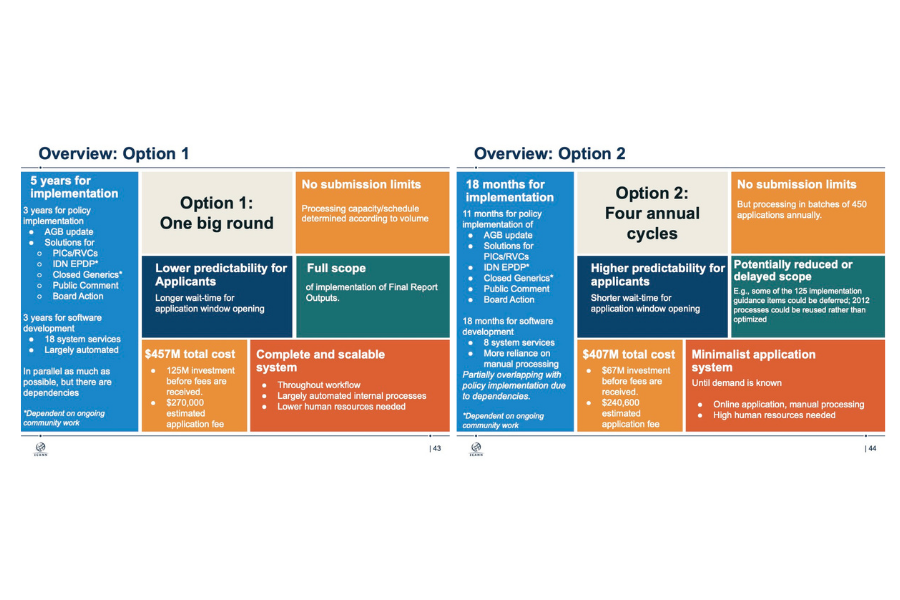 Option 1 is to proceed in the same way as before, but incorporating all the new requirements. This would require ICANN to spend £100 million upfront in order to open a single application window after five years. At that point, around 2028, each application would cost £200,000. The first resulting internet extensions would likely go live sometime in 2029 or 2030.
Option 2 is to proceed in smaller stages, called "cycles". Instead of conducting a single application window, the plan is a program split into 4 (or possibly more) annual cycles, each with its own application window. This drastically reduces the risk and complexity for all parties involved. With Option 2, the first application window might be announced as early as 2024. The cost of an application would be £180,000 here, but it's possible that it could be lowered for subsequent cycles.
ICANN's presentation, transcript, and audio and video recordings are available here.