The UK has been revealed to have the second highest number of domains per head of population.
A survey of domain registry data from around the world ranks only the Netherlands with higher domain name ownership.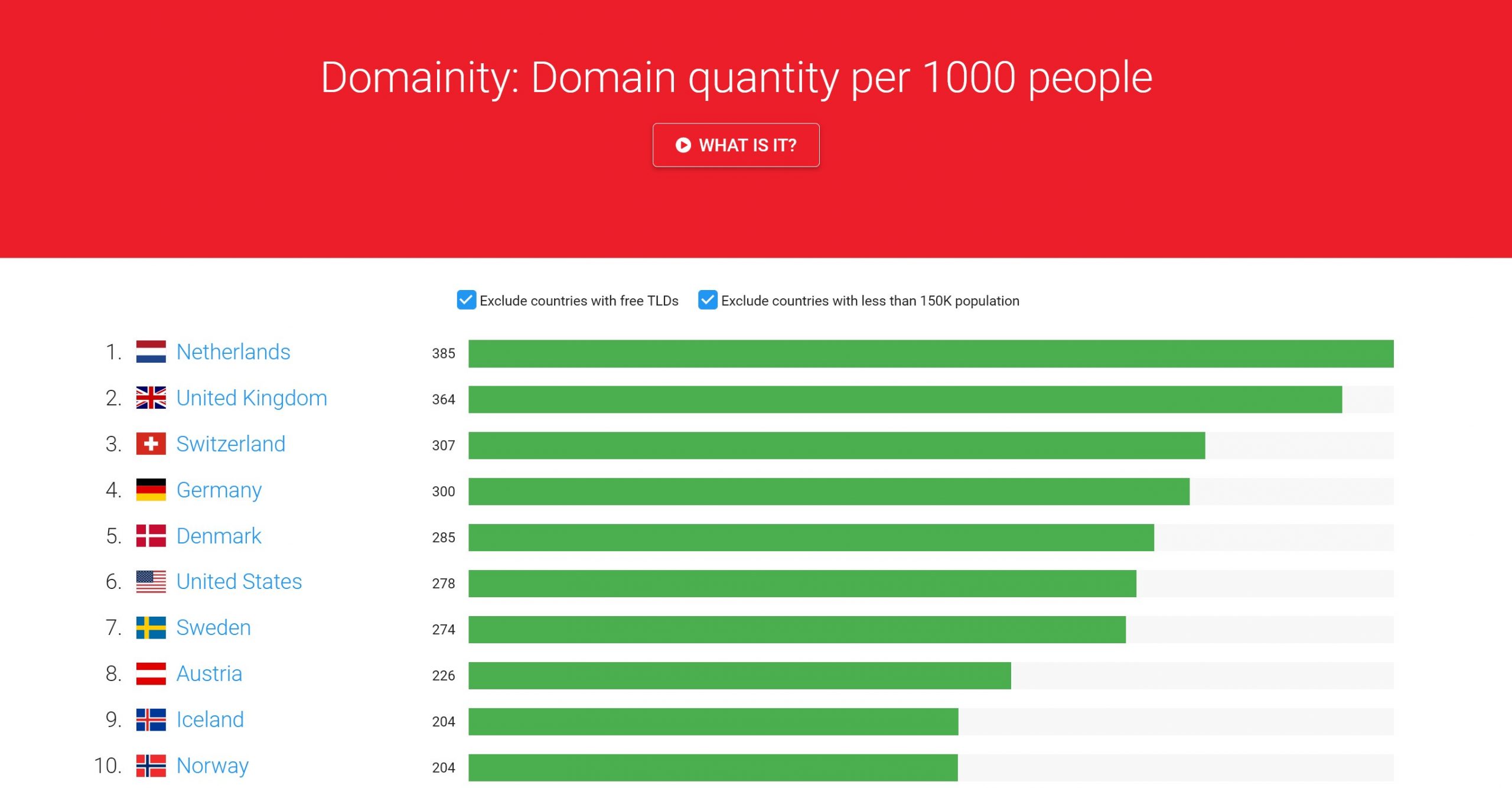 Source: Domainity: Domain quantity per 1000 people – Site.pro
Statistics always need a bit of unpicking and you'll see that two exclusions are made –
Does domain pricing have an impact?
Certainly domain pricing the UK and Netherlands for their own country domain name, .uk and .nl is low compared to many countries, but Switzerland (.ch) pricing is comparable to what you pay for a .com or .org domain. However the statistics collected include all "flavours" of domain extension (we think), so the graph is really a good overview of domain name usage as a whole and pricing should not make too much of a difference.
What does the future hold?
An annual survey from Afnic, shows the number of domain names registered and held continues to grow year by year.
The global domain name market accounted for approximately 349 million domain names at the end of December 2020, up 1.3% compared to the 4.7% in 2019, broken down between:

155 million .com and 32 million other Legacy TLD (.net, .org, .biz, etc.)

130 million ccTLDs (country TLDs, corresponding to a territory or country like the .fr domain)

32 million new TLDs or nTLDs (geoTLD, brand TLDs and community TLDs and generic TLDs created after 2012).
Undoubtedly domain name usage will continue to grow as more businesses and individuals launch websites and email for themselves. 2020Media can help you with your search for the perfect domain, just contact us at www.2020media.com/contact.