The usual way to verify a website with Google Webmaster tools (now known as Google Search Console) is to download a small file from Google and then upload it to your website, or to make a change to the DNS records.
As FTP is becoming less and less used these days, and often the DNS management is done by someone different to the person responsible for the website, there are better ways!
Here's a quick guide on how to verify your WordPress site with Google Webmaster Tools using just your web browser, no FTP or DNS, and a free plugin.
3 Steps to Verify your WordPress Site
Install this plugin in your WordPress site: Verify Google Webmaster Tools – https://wordpress.org/plugins/verify-google-webmaster-tools/
Add the site in Google Webmaster tools, and select the Alternate methods and then HTML tag (Add a meta tag to your site's home page) option.
Then in WordPress, install and activate the plugin, go to Settings -> Google Webmaster Tools and paste in the HTML tag that Google is showing you. Save Changes and go back to Google and click Verify.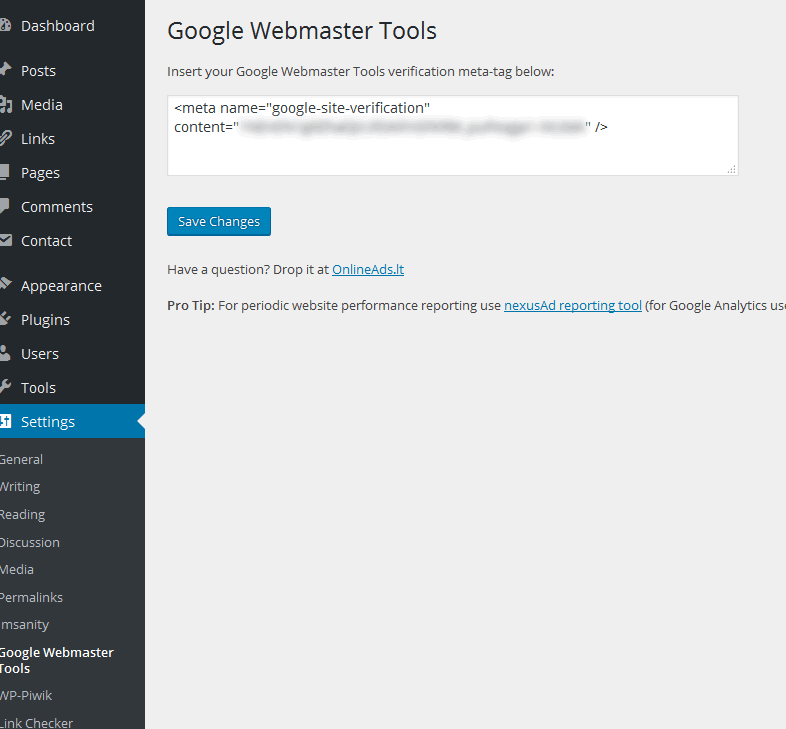 What is Google Webmaster tools?
Google Search Console (previously Google Webmaster Tools) is a no-charge web service by Google for webmasters. It allows webmasters to check indexing status and optimize visibility of their websites. As of May 20, 2015, Google rebranded Google Webmaster Tools as Google Search Console.