"Every church should have Wi-Fi, says Andrew Lloyd Webber"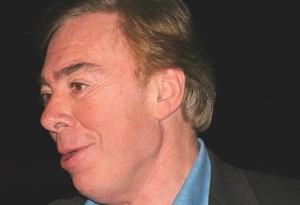 This was the headline today, and reported by The Daily Mail, The Telegraph and The Sun.  Lord Lloyd Webber, who sits as a Conservative member in the House of Lords, indicated that discussions over installing internet for the general public at churches have already taken place with the Government. He said: "I want to get every church in the country on Wi-Fi. "Once you do that, the church becomes the centre of the community again."
This would make churches a more integral part of the community, he says.
It's caught the imagination of the Twitter flock too: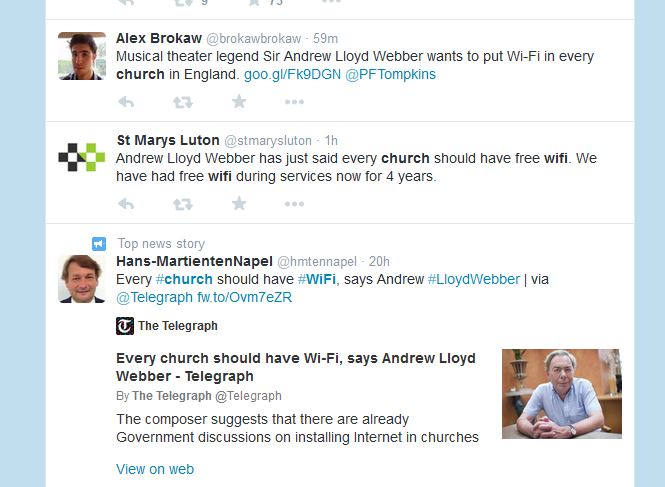 How do Churches go about offering Wi-Fi in a safe and responsible way?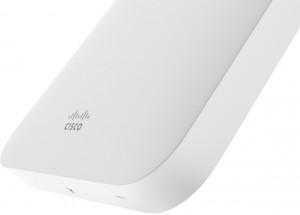 The managed Wi-Fi hotspot service from 2020Media offers a solution that provides value for money and internet safety.
Key Features
Enterprise principles applied to a small business priced package.
Cloud Managed so no expensive on-site visits are necessary.
Capture user logon details to provide compliance with UK legislation.
Hotspot page fully brandable.
Firewall and Traffic Management built-in with local network isolation.
Block inappropriate websites at no extra cost.
2020Media has years of experience offering SME internet solutions and has worked with non-profits to get the best possible value for their constituents.
Call us to arrange a no obligation demo, or to find out more about what we can offer. Tel: 0370 321 2020
Other Benefits of Managed Wi-Fi
WiFi with Facebook Login
Build Loyalty
Guests can post a story to their News Feed, showing their friends they visited your location and promoting your organization by virtual word-of-mouth.
WiFi with Facebook Login
Deep integration between the Wi-Fi hotspot and Facebook lets your customers connect to WiFi by checking in on Facebook, using your organization's Facebook Page as a splash page.
WiFi with Facebook Login gives organizations access to aggregate and anonymous demographic data Facebook provides about visitors.
Location Analytics
Use the cloud control panel to compare visitor trends between sites or after launching campaigns, and to find the effect of actions on visitor dwell time or repeat visit frequency. Customize the display to show data for a specific day, weekend, or even trends over a month.
 Contact 2020Media to find out more
Call us to arrange a no obligation demo, or to find out more about what 2020Media can offer. Tel: 0370 321 2020