Wednesday 24th February 2016 was CiviDay – an annual event to learn about CiviCRM and what it can do for your organization, meet other CiviCRM users, ask questions, share tips and build connections.
The CiviDay London event was held in the offices of Compucorp, one of the main UK CiviCRM development houses.
There are regular CiviCRM meetups in London, which are open to all. They are particularly aimed at people looking to find out more about CiviCRM or considering it for their organisation. There is always a mix of experience levels represented and are a great forum for asking questions or for meeting current users, implementers or developers who can help with your project.
CiviDay London Format
Session 1: Intro to CiviCRM
Session 2: What's new in Civi 4.7!
Break
Session 3: CiviRules – what I can do with it and how to extend it…
Session 4: CiviHR – Latest developments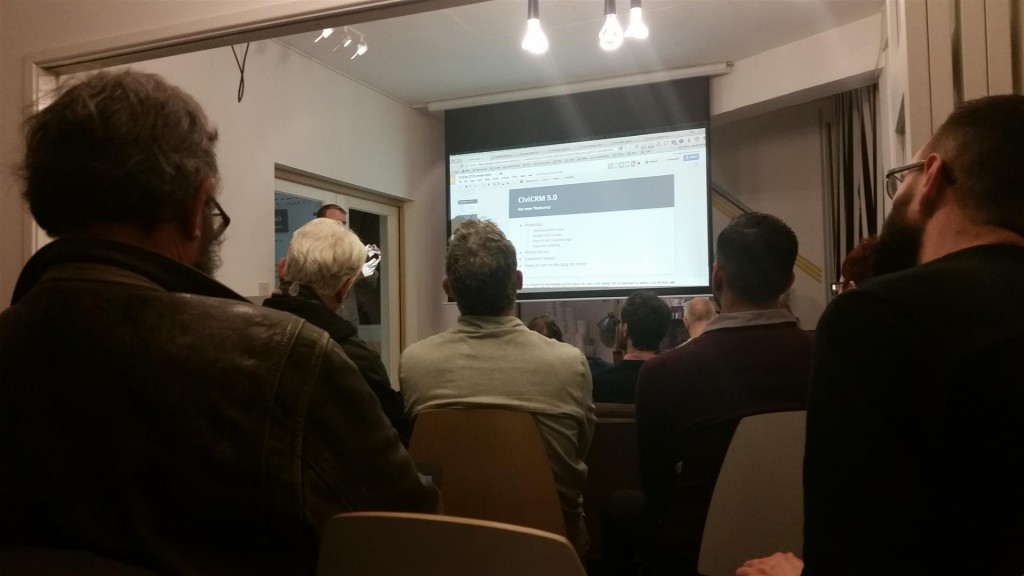 2020Media, a UK CiviCRM hosting provider attended the event and these are the thoughts of their Civi expert Rex:
We started with introductions – the first speaker was Jamie Novick from Compucorp, our hosts for the evening. The meeting room was at capacity – I estimated over 30 people had come along. Of these, on a show of hands, 4-5 had never used CiviCRM before.

Jamie started us off with a look at https://stats.civicrm.org/

CiviCRM usage stats

This shows a up to date view of how CiviCRM is growing across the world. I was particularly interested to see the although Drupal is the most popular underlying platform with 63% market share, WordPress is now the second most popular, overtaking Joomla. CiviCRM on WordPress has only been around a couple of years, so this is significant growth, and I believe shows how people want CiviCRM to integrate with their public-facing websites.

Other Statistical Highlights

Over 10,000 sites using CiviCRM
170,000,000 contacts managed
UK second largest market with 1,200 organisations
Post popular extension: CiviDiscount

There's a close correlation between hosting location and organisation location, which ties in with our experience as a CiviCRM host.

CiviCRM server location
Session 2. After spending some time with the numbers, Jamie gave a quick overview of changes in the latest CiviCRM version, and what is planned for the upcoming 5.0 release.
Next, and mainly for the benefit of those who were new to CiviCRM, Jamie went through some of the most common tasks in CiviCRM, showing each activity and providing useful tips to novice and expert alike. This also helped those running older versions, so they could see what new options were now available.
Session 3.  A look at CiviRules. This presentation was about an extension called CiviRules, which is a free add-on to CiviCRM.

Compucorp employee Guan Huan gave us a tour around the CiviRules extension. For Drupal developers, CiviRules will be familiar as it is similar to the Drupal Rules function. In essence it is a way of creating an automated process based on:

If <this> then do <that>

You can define Triggers, Conditions and Actions.

Another way to look at this is that is mimics SalesForce Automation – which is well known as a very powerful tool.

CiviRules is fairly new and still in development, but it was easy to see how useful this would be to reduce admin work.
Session 4. The final talk of the evening from Natalie was about CiviHR – a project based on CiviCRM, but standalone.
CiviHR

CiviHR is a reimagining of CiviCRM as a system for the needs of HR departments of all organisations (not just charity/3rd sector). Although being listed as an extension, it is in fact going to be released as a seperate full install of Drupal and CiviHR.

CiviHR allows you to run all the functions of a large HR department – for example, people, onboarding, contracts, holidays, sick days, training etc.

The design, which we saw a preview of, looks very slick and modern – I think all the people at the meetup were thinking "if only CiviCRM looked as good as this"!

Currently the development team hope to release an MVP (minimum viable product) in late Q2 2016. They are looking for pilot clients to work with.

The evening wrapped up with networking and a few drinks in a local pub.

If you are interesting in learning more about CiviCRM, seeing how it operates, asking questions to friendly people who have in depth knowledge, I thoroughly recommend dropping in to the next London CiviCRM meetup. You can register here https://civicrm.org/events
Information about the CiviCRM services offered by 2020Media can be found in the links below, and at http://www.2020media.com/shared-hosting/civcrm-hosting