In a guest post, 2020Media director Rex explains how he created a WordPress website to help with managing committee meetings for a school governing board.
Rex says: "I recently became a school governor, and at the first governing board meeting it became apparent that there was an awful lot of paperwork! I'd been emailed various documents before the meeting, but these were spread over several batches, and there were also items that the documentation was not available until close to the last minute. I felt a web-based service for keeping track of a meeting agenda with links to the associated reports would be very useful."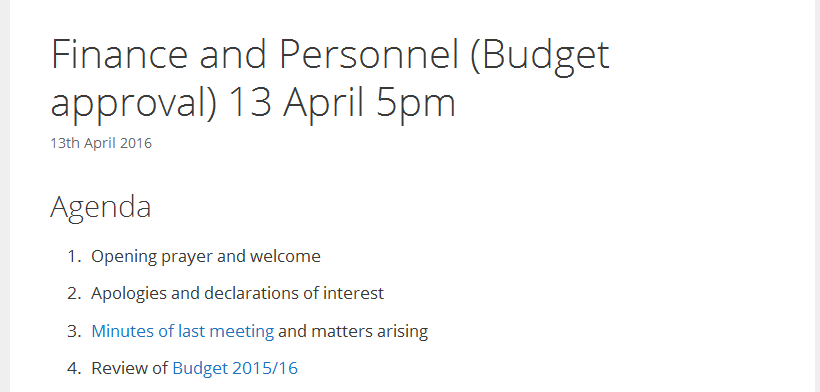 I decided to build the site using the free WordPress software. Not only does WordPress have a well-deserved reputation for ease of use, which was important as non technical people would be uploading documents to the site, but there are also plugins available for every conceivale use, and I knew the some of the functions needed were not going to work "out of the box".
Primary Requirements
Secure.
Easy to Use.
Reduce, not Add to Workload.
Secondary Requirements
Show upcoming and historical meeting agendas.
Cater for school governing board committee structure.
Format agenda to display items in a familiar way.
I started with a standard WordPress install using 2020Media's zero-click WordPress hosting. A SSL certificate was added to make all communications with the site secure. I then started to build out the system using a very flexibile WordPress theme called GeneratePress. One premium add-on to this theme was used – Blog – which simply allows some of the meta-data in a post to be hidden. Cost of this add-on was $10.

WordPress Plugins Used
Admin Menu Editor
Custom Meta
Imsanity
Login Logo
Nested Ordered Lists
Password Protected
White Label CMS
WP Scheduled Posts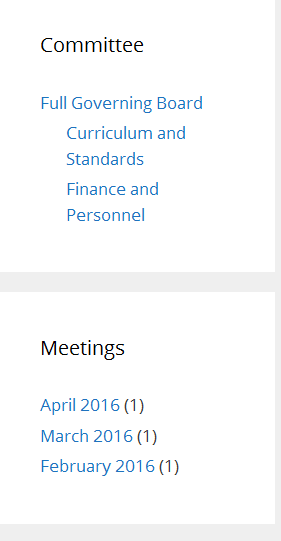 Rather then go through a recipe style guide on replicating the site, I'm just going to explain what I did differently, please ask if anything isn't clear.
Each meeting is a blog post (in WordPress terms). The agenda items are a simple ordered list created in the WordPress editor, with reports added using the "Add Media" or simply dragged across from the user's computer. Post categories are used for the different committees. The theme used has sidebar widgets showing clickable Categories as well as Archives, Calendar and Custom Meta (showing a simplied login menu). Password Protected is used to block access to the site to the public.
In WordPress future dated posts are not shown until they are scheduled so to the WP Scheduled Posts plugin allowed us to publish post immediately but with future date-time. This meant the publish date could be set as the date of committee meeting, rather than the date it was written. This in turn meant the calendar and archives had meaningful dates on them.
Other plugins used were mainly to simplify operations for the users of the site. Each user was given the "Editor" role, which allows them to create and manage any post. Menu items were renamed or hidden from view to make the administration as straightforward as possible. I chose to use plugins rather than a custom theme as I believe it will be easier to maintain the site over the long term.
The system has not yet been adopted so I anticipate making changes based on feedback from the committee members. So far feedback from the Chair and Clerk (who will be the ones using the administration side primarily) has been very positive.
Useful Features
Prior to a meeting the agenda can be built up, and reports added.
A link to the meeting post can be circulated to the board by the clerk, rather than sending several emails with attachments.
During a meeting colleagues will be able to use tablets and laptops to pull up reports as needed, and fewer piles of paper will be generated.
Some possible future changes.
A notifications system – The system could notify all members when a post is published, or updated, or a week prior to the meeting.