Yesterday evening I went along for the first time to the WordPress User Group London (WPUGL).
This user group is managed via the popular Meetup.com site. You can find out more at http://www.meetup.com/WordPress-User-Group-London/
WPUGL brings together London's community of WordPress users to share knowledge, tips, ideas and inspiration, helping each other get the most out of WordPress.
The organisers run free evening events in central London with an informal atmosphere, encouraging everyone to share their knowledge and learn from others.
Each event focuses on a specific aspect of WordPress. Meetups can include hands on 'peer to peer' workshops, advice from WordPress professionals and the chance to network with other WordPress users.
This meetup group is specifically for people who use WordPress in their business, jobs or personal projects and want a supportive local community to help them achieve their goals.  WPUGL is not a developer meetup but typically there are developers and industry professionals at events and who support the user community.
There is another WordPress user group – http://www.meetup.com/London-WordPress/ –  that is much more technical, mostly for developers (in my opinion), and 2020Media are often in attendence there too. Yet another, which is solely developer focussed is http://www.meetup.com/wp-hooked/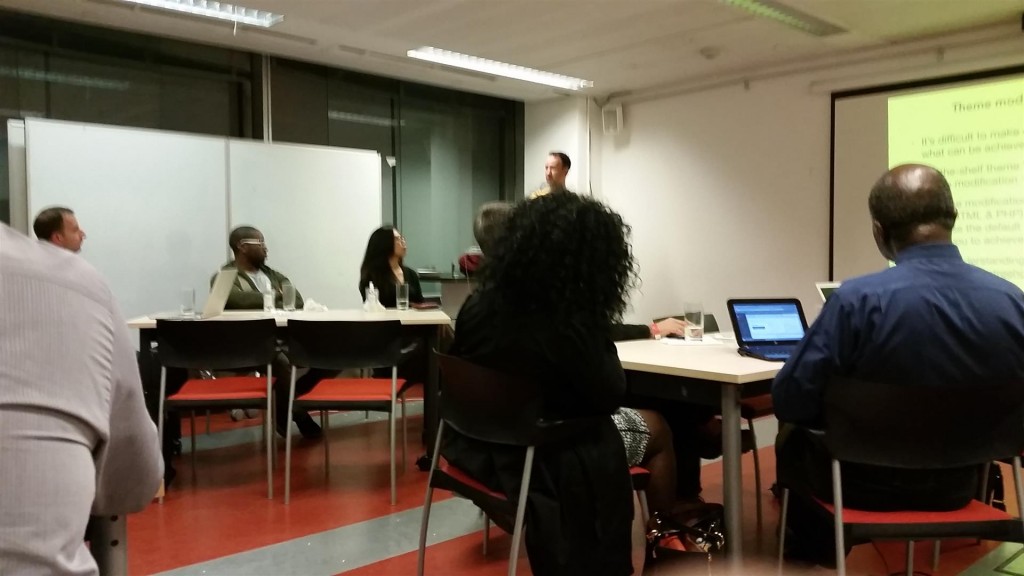 Last nights event was all about Theme Modification.
Organiser Eugene went through the steps involved in modifying a theme including
Starting point – does your theme do it already.
What is, and how to create a child theme.
CSS changes affecting design (stylesheet modification).
PHP changes affecting functionality (functions.php modification).
HTML change affecting layout (pages modification).
There was plenty of discussion amongst the approx 30 people who came along, with views for and against various suggestions happily coexisting.
The meeting ended at 9 o'clock. We'll definitely be back! Talk on speeding up your site anyone?