Source: French Domain Name Industry Report – AFNIC
New Top Level Domains (nTLDs) accounted for 21% of the net growth of the domain name market in 2014
The recent publication of the ICANN reports for the month of December 2014 enables us to finally take stock of 2014, marked by the launch of the "new TLDs" (or "top-level domains")  expected since their announcement by ICANN in Paris in June 2008.
We now have all the figures for 2014, so we  can provide an overview of market trends and outline an assessment of the impact of the nTLDs on the 18 "traditional" generic  top-level
domains  (known  as  "legacy  gTLDs",  i.e. .com,  .net,  .org, .biz,  .info,  etc.)  and  the  countrycode TLDs (or "ccTLDs").
Key figures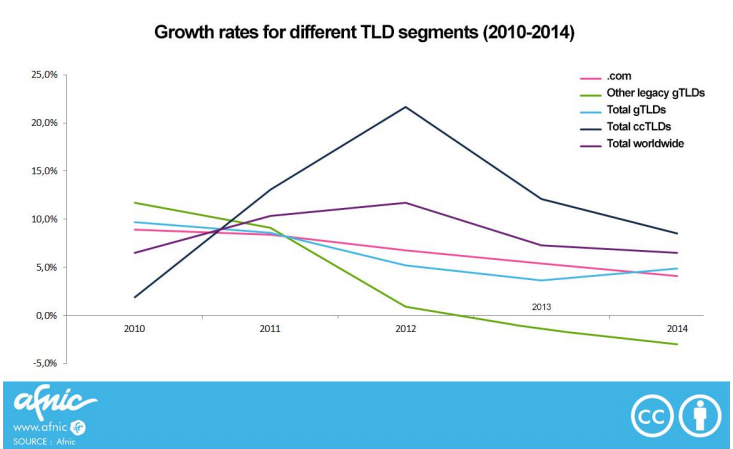 According  to  the  ICANN  reports  compiled  by  the  Afnic  Market  Research  team,  as  at  31/12/2014  there  were  approximately  158.6  million  domain  names  registered  under
gTLDs, of which 3.8 million were nTLDs.
These gTLDs, added to the 134 million ccTLDs counted by Verisign / Zooknic, result  in a total  of  292.6  million  domain  names  at  the  end  of  2014,  of  which  54%  were  gTLDs,
compared with 55% at year-end 2013.
The emergence of nTLDs, therefore, has not been sufficient to allow gTLDs to regain a growth rate higher than that of ccTLDs.
Global growth in the domain name market reached 6.5% in 2014 (Fig. 1), against 7.3% in 2013. However, this average masks contrasting dynamics.
The country-code top-level domains (ccTLDs) continued to grow at a rate of 8.5%, that being a marked slowdown, however, compared with the two previous years.
The  .com  dropped  below  5%,  while  all  in  all  gTLDs,  boosted  by  the  nTLDs  introduced  in 2014,  experienced  a  slight  upswing  in  growth.  The  major  losers  appear  to  be  the  legacy gTLDs (except for the .com), which lost 3% in stock after having already lost 1.3% in 2013.