Today is the day Londoners elect a new mayor, and we thought it would be interesting to look at the candidates' choice of domain names, and see if any patterns emerge.
Here are the candidates and their domain names:
London Mayor Elections 2016

| Name | Domain Name | Registration | Expiry | Registrar |
| --- | --- | --- | --- | --- |
| Sian Berry | sianberry.london | 05/2015 | 05/2017 | Fasthosts |
| David Furness | bnp.org.uk | Party site | | No registrar |
| George Galloway | galloway2016.london | 06/2015 | 06/2016 | 1&1 |
| Paul Golding | britainfirst.org | Party site | | Domain Monster |
| Zac Goldsmith | backzac2016.com | 05/2015 | 05/2017 | GoDaddy |
| Lee Harris | lee4mayor.com | 02/2016 | 02/2017 | iwantmyname.com |
| Sadiq Khan | sadiq.london | 10/2014 | 10/2016 | Minds + Machines |
| Ankit Love | ankitlove.com/london2016 | Party site* | | GoDaddy |
| Caroline Pidgeon | londonlibdems.org.uk | Party site | | 123 Reg |
| Sophie Walker | womensequality.org.uk/sophie_for_london | Party site | | Zen Internet |
| Peter Whittle | peterwhittle.london | 08/2015 | 08/2016 | GoDaddy |
| Prince Zylinski | zylinski.london | 09/2015 | 09/2016 | 1&1 |
*Site is part of candidate's business website.
Some candidates have not registered a domain specifically for their campaign, so we can't really draw conclusions from these (unless perhaps they're just prudent with their cash!).
Popularity of Domain Extension
.LONDON  (5)
.COM (3)
.ORG.UK (3)
.ORG
.LONDON most popular by large margin. We've placed .COM above .ORG.UK as all the .org.uk domains were party sites and two of the .com domains were dedicated campaign sites.
All the .London domains were dedicated campaign sites. It seems the new .london domain extension struck a chord with the majority of candidates as a way to express their links with the capital. There are 64,000 .london domains registered.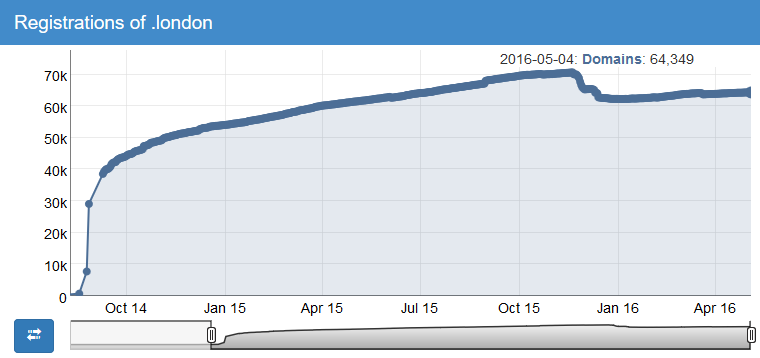 ntldstats.com reckons 60% of .london domains are 'parked', which means are not actively used. 2020Media is a registrar for domain names and can help you choose the best domain for your needs. Contact us if you would like to find out more.
Registration Date Analysis
Oldest domain: 10/2014 (sadiq.london)
Newest domain: 02/2016 (lee4mayor.com)
The oldest registered domain was much older than all the other campaign site domains by a long margin and is the only domain registered in 2014. The most recent domain was registered earlier this year. None of the domains have long registration periods, suggesting that they are single-purpose sites, or are on default 2 year renewal cycles.
Domain Redirects
None of the domains redirect or are aliases for an different underlying domain. This is good news, it means these domains are being properly used. We found that the websites for the candidates found using Google did not always reflect the domain names that the candidates put forward in their manifestos.
Domain Registrar
Our analysis found no great surprises here – the distribution of registrar (the company that manages the domain name) was widely in line with their market share.
Mayoral Candidate Domain Name Conclusions
We found the .LONDON domain names were a popular choice for candidates wishing to become the next Mayor of London. Most domains were registered specifically for the campaign and look unlikely to survive after the election.
We believe choosing the right domain name is an important part of marketing. This includes the extension (the dot whatever), and for this year's London Mayor elections this has been born out by the choices the candidates have made.
The domains chosen are mostly descriptive, to the point, suggest relevance with the capital, and memorable.
Where candidates have only given their party website addresses, we think this was a missed opportunity for them personally, but may have longer term benefit to the party itself. Possibly this was deliberate – with the Mayoral election effectively a two horse race, generating publicity for the party rather than the candidate may have been the underlying aim of the promoter of the candidate.